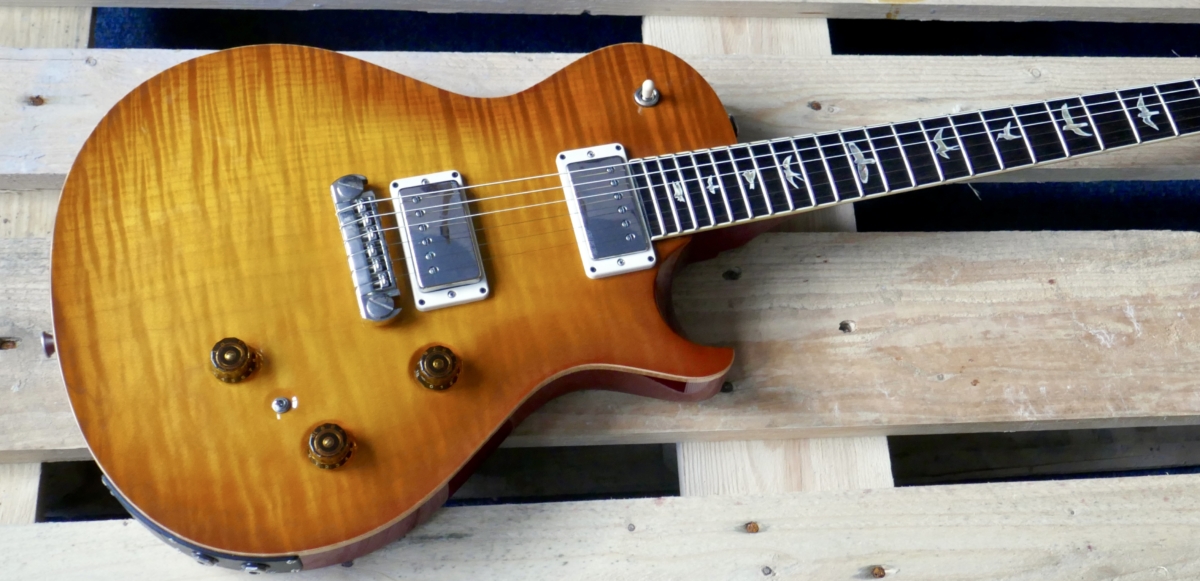 Click on a photo to view larger image and slideshow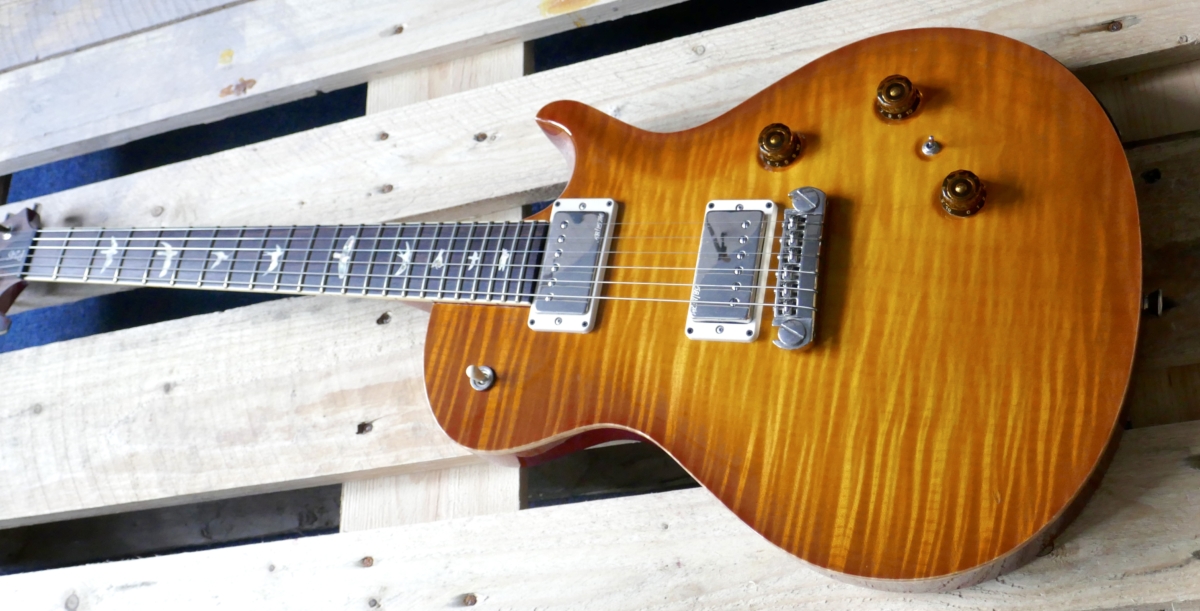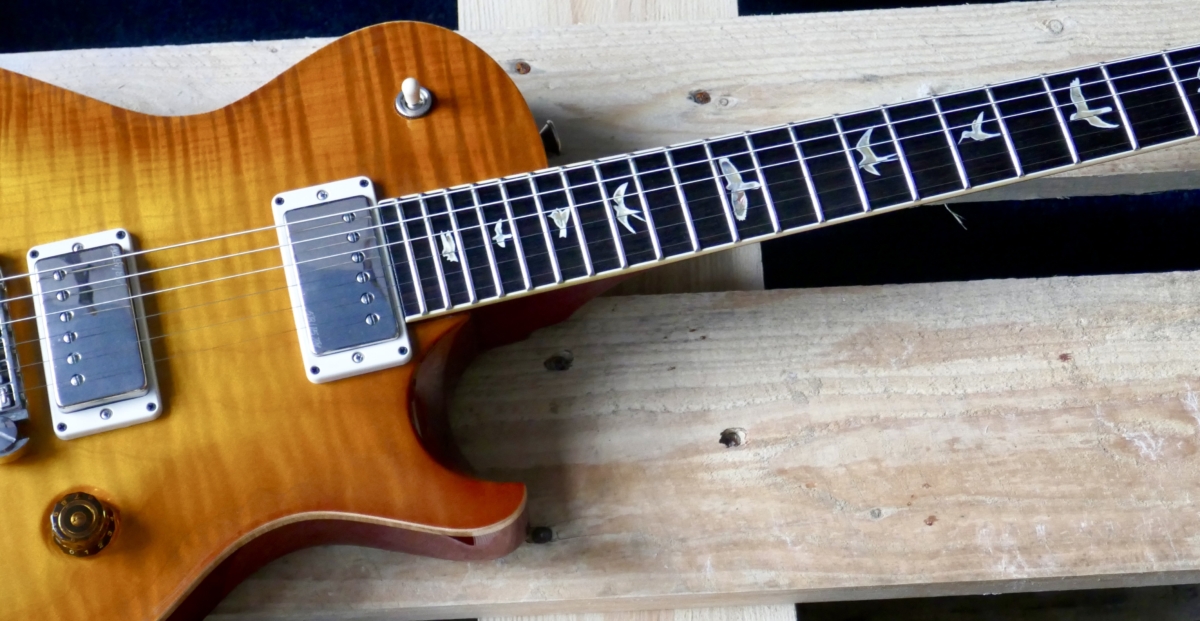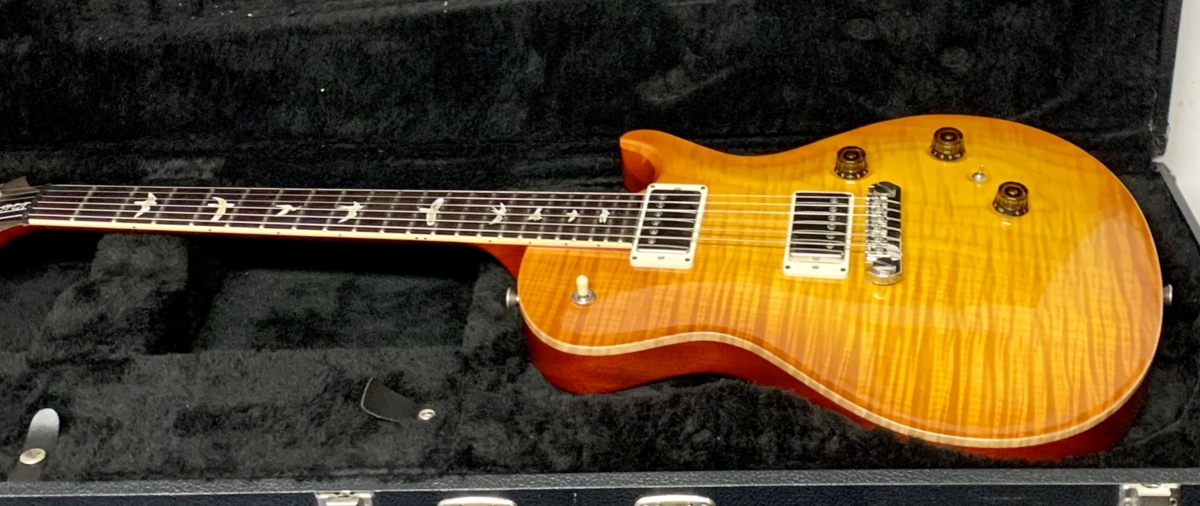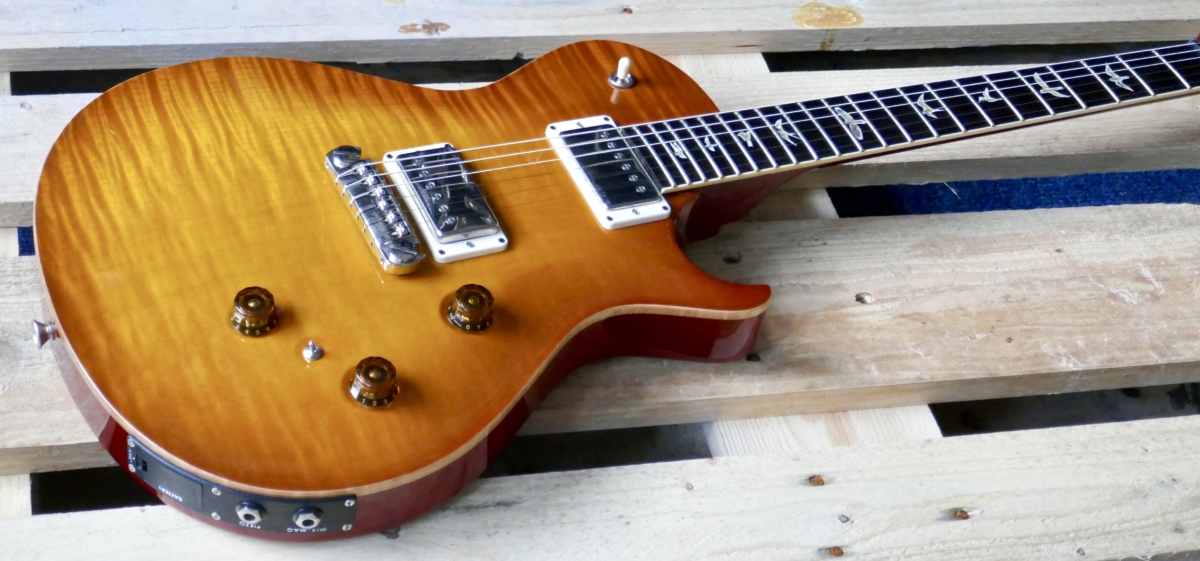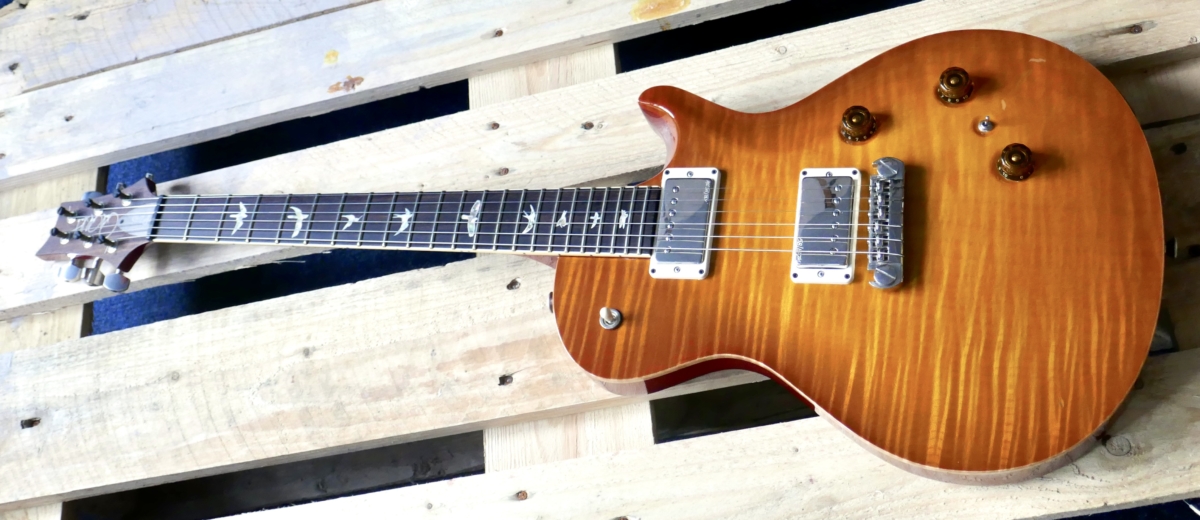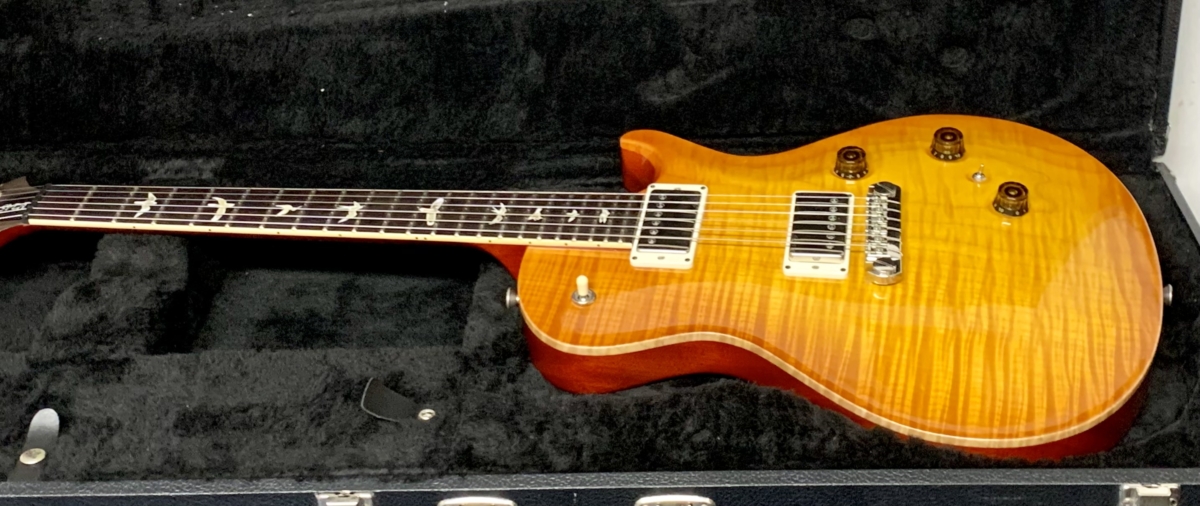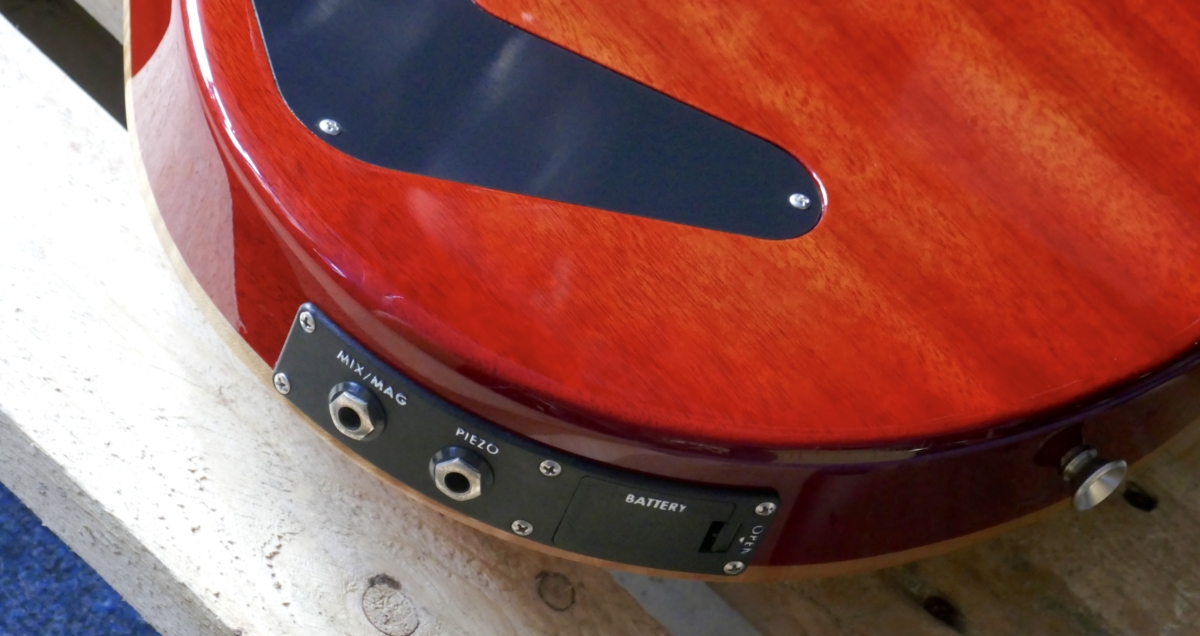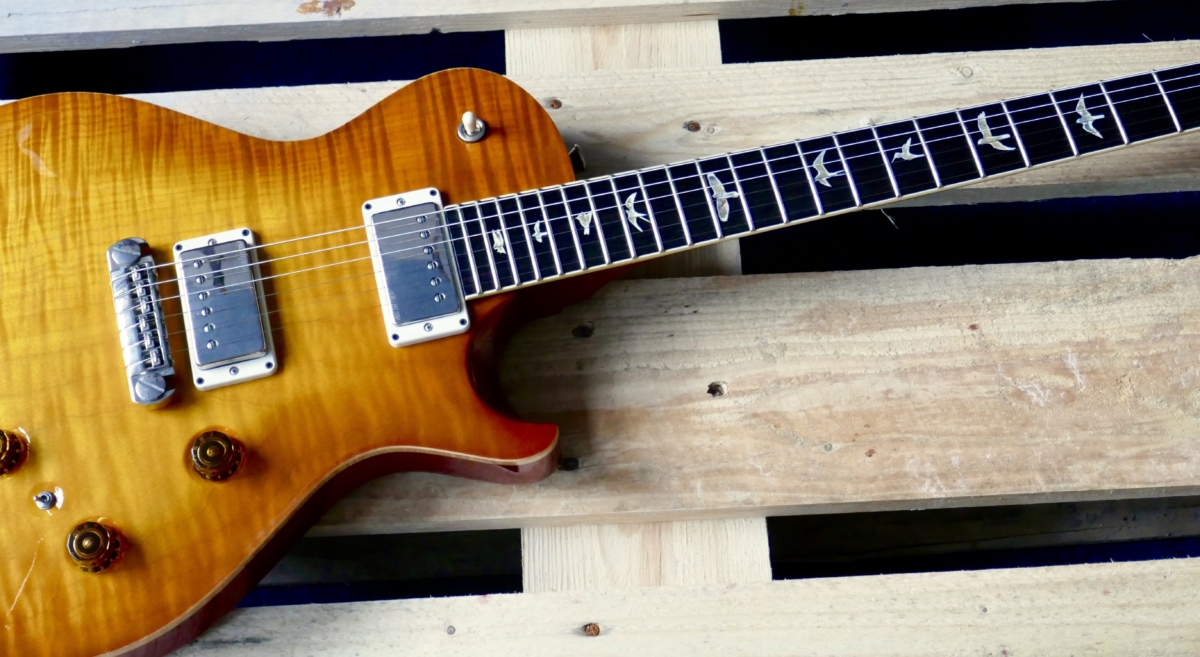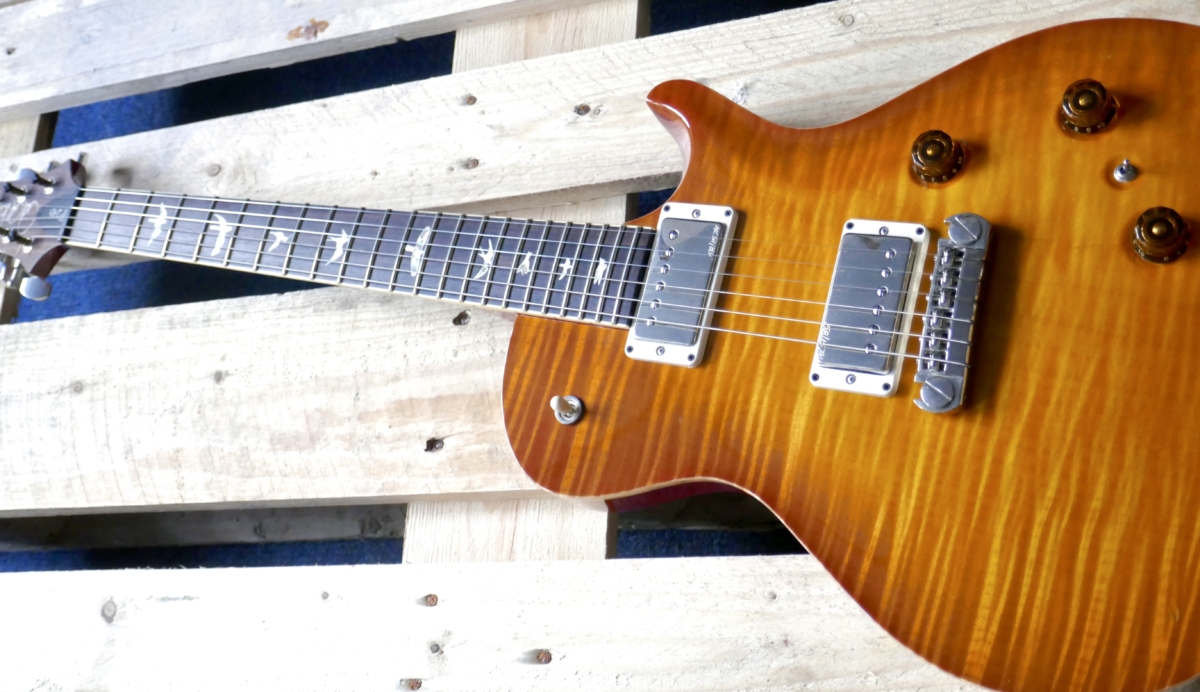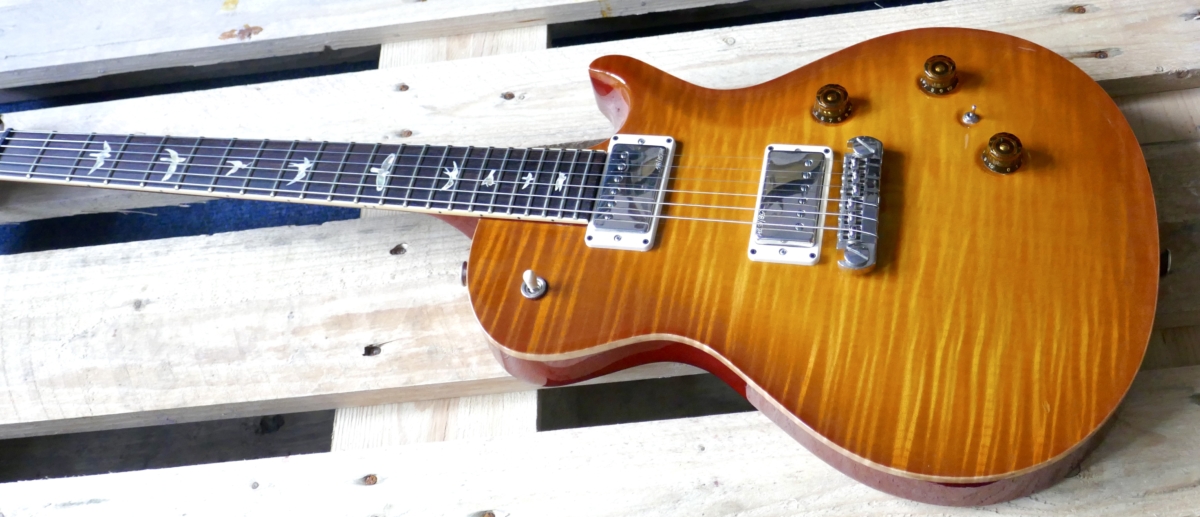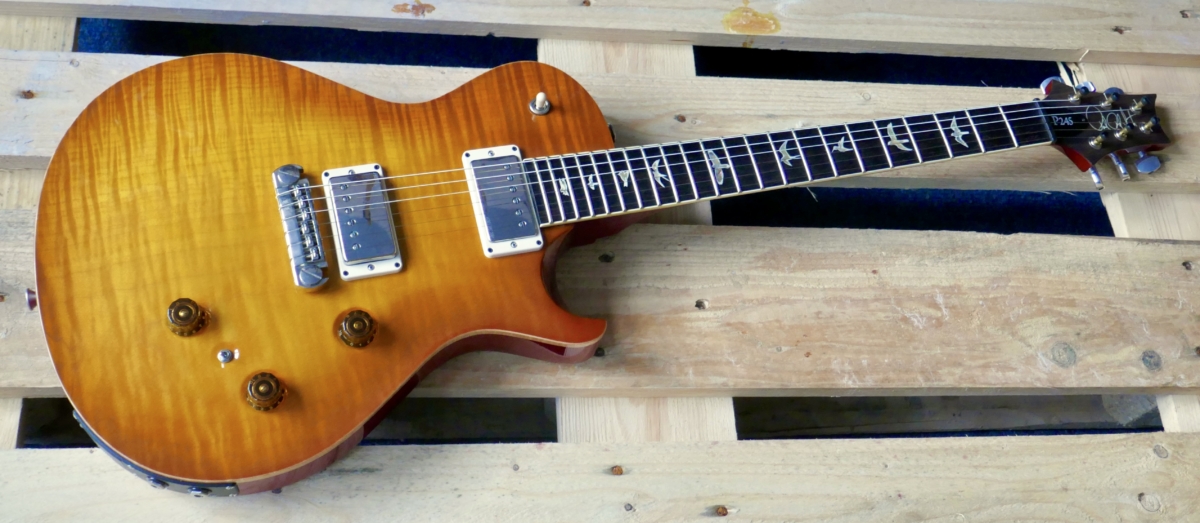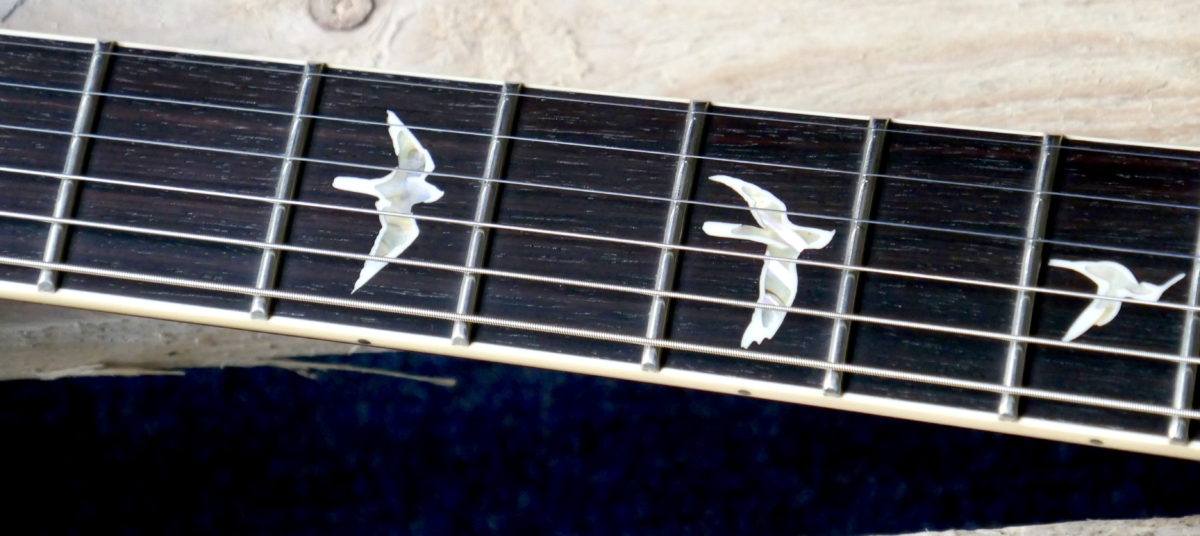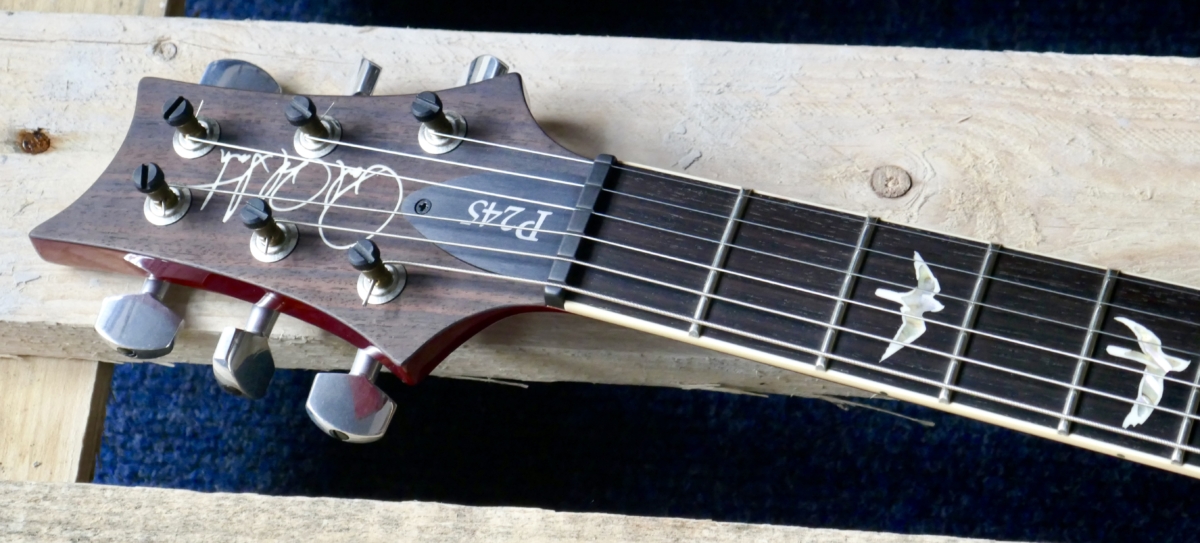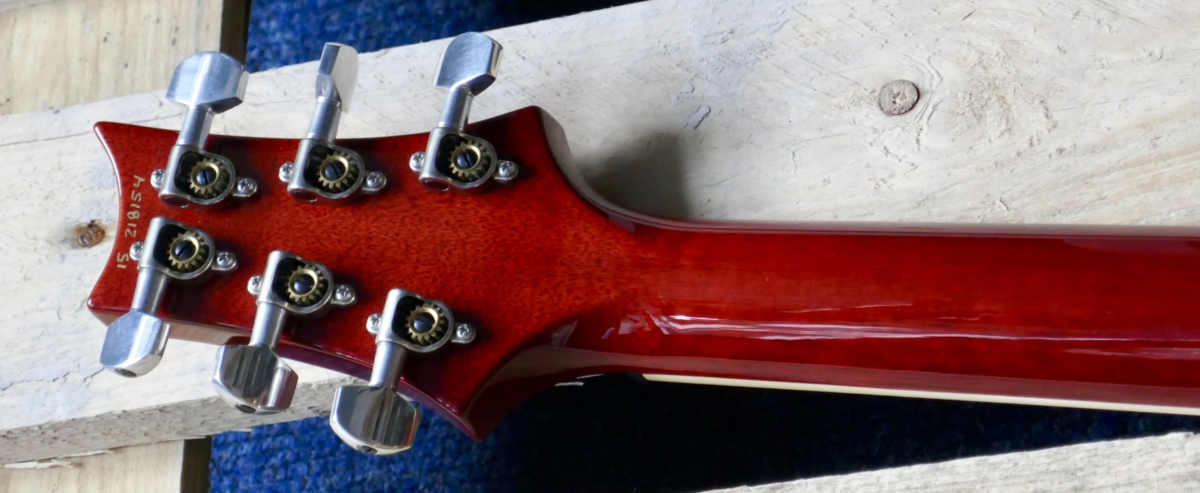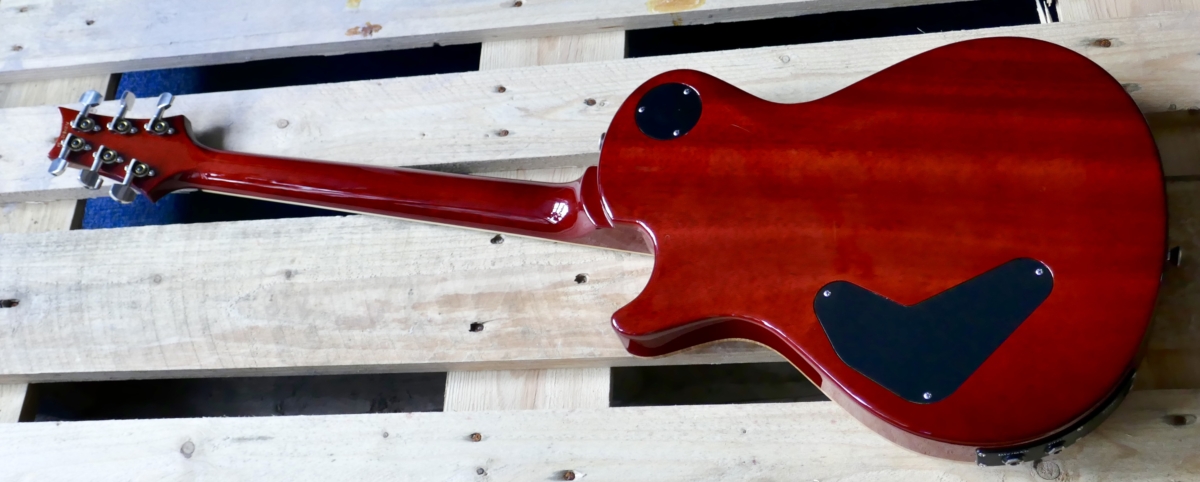 If the definition of a new guitar is one that has never previously been sold by an authorised dealer, then this PRS P245 with Piezo is still a new guitar – Even though it has a 2015 serial number – However, it has spent the last 8 years, or so, within the PRS UK warehouse stock, as a display, demo, artist model – As such it is not in new condition and neither does it possess the appropriate factory tags and/or manual – So do we now call it used, or do we refer to it as an ex-demo – You decide – Either way it is well priced at £2969
Before I go any further then I suggest you click here and read an informative review of the P245, courtesy of Guitarist Magazine, then click here for a YouTube style video clip of the P245 in action  – Whilst the review is of the f-hole semi hollow bodied version, in essence, the product is similar, with a similar spec and as I can't find a review of the actual P245 solid body model, as per the model I have for sale, then the Guitarist review will give you a fair amount of relevant info – Especially with regards to the piezo package
The PRS SC245 has had somewhat of a stop start career – First introduced in 2007, until 2009, with the traditional PRS one piece wrap over bridge/tail piece – Then dropped, but re-introduced, with a two piece bridge + tailpiece, in 2013 – Whilst this P245 is from the era that relates to its second coming, the fact that it incorporates the LR Baggs active Piezo Package, as featured on the PRS Hollowbody models, then it is back to a one piece wrap over format, albeit with 6 fully adjustable saddles – With 24.5″ scale length and a pair of 58/15 custom wound PRS humbuckers, the flavour of the guitar is certainly inspired by a Les Paul – I've owned and played a PRS Hollowbody model, complete with the piezo option, for nearly 20 years now, and as an overview I'd say it is more of a jazz/fusion model that dabbles in the cleaner soft side of rock, blues and pop side – So a version that allows you to apply more gain, as/when required, then enter the rockier side of playing styles, will appeal to many players – There is no way, as per most/all, electro acoustic models that the piezo package will suddenly sound like a pre-war 10 grand Martin D28 – But it does give you instant access to 'realistic acoustic voices' that can add additional variation, as when required, to your live performance and/or studio recording packages – As a quick well known guide line – Think the intro to Hotel California and/or Stairway to Heaven with their arpeggio style 'acoustic' influenced style – Then when the verse starts you can instantly switch back to your humbucker solid body option – Or indeed think Pete Townshend and say Pin Ball Wizard and/or Substitute, whereby you might want to blend the humbucker with the 'acoustic/piezo' option – Layer the sound so it sounds like two different guitars – I know it does more than that, but hopefully it will give you an instant idea of what is on offer here
Host of spec and details with regard to this 2015 PRS P245 :- 
Ex-display model direct from the PRS UK warehouse – vintage sunburst gloss finish
Whole guitar weighs 8lbs and 11oz
Solid, one piece mahogany body with a figured maple top and what is now a PRS trademark with the natural body binding
One piece mahogany neck with the pattern neck profile – Previously know as the wide/fat profile – Measures .899″ around the 12th fret and then gently fattens out to .951″ around the 12th fret – Not vintage R9 replica Les Paul fat – So comfortable girth
Bound rosewood fingerboard with of course the usual bird inlays, plus a set of 22 jumbo frets – Slightly meatier than the traditional PRS 6150 size frets – Note, no fret end nibs as per an LP, so frets run out across the full width of the fingerboard
24.5″ scale length
Rosewood headstock facia with an P245 inlay on the truss rod cover
Mk111 open back PRS locking tuners
One piece, machined not cast, PRS wrap over bridge tailpiece with 6 fully adjustable saddles which incorporate the active piezo package
PRS Custom wound and voiced 85/15 humbuckers
Regular 3 way switch for the humbuckers with a master vol + tone format  – Plus push/poil partial coil tap option, on the tone pot for the humbuckers
Mini 3 way selector switch to choose piezo only, both/blend, humbuckers only 3rd pot is the volume for the piezo pacakge
Easy 9 volt battery access on the rim of the body by the two jack sockets – More on the whole piezo option later
Re-strung + set up with 10-46 gauge strings and a sensible easy action
Condition wise, as I mentioned earlier this is not in that 'as new' condition as it has spent time with the PRS guys for various demos and artist relation work – You'll find a ding on the rim of the headstock – No blemish to the figured maple top, but look on the rear of the mahogany body and you'll find a couple of grazes and 'belt buckle' compression marks to the top surface of the gloss finish – Nothing nasty – No fret wear – Hint of the usual tarnish/oxidization to the nickel hardware
With the P245 having both a pair of PRS humbuckers, plus the LR Baggs patented piezo system, that incorporates individual string voicing and real acoustic modelling, the tonal options are vast – You have the option of running both the piezo and regular humbuckers down a conventional guitar lead into your existing amp set-up – However to get the best out of the piezo system, it is suggested that you run this into a more dedicated amp (electro acoustic amp, pa desk, recording package etc,) with the humbuckers still hooked up to your regular guitar amp – Therefore you have 2 separate outputs, if required, to allow you to take advantage of this option – The little 3 way mini toggle switch allows you to select humbuckers only, piezo only, or both – The control knobs are volume and tone, whilst the 3rd knob allows you to blend in the piezo level, as required to work in conjunction with the humbuckers – Very easy to use and very flexible – I for one, would probably never have placed the piezo option as a must have item towards the top of my shopping list, but once you have played around with it, you realise it has some great voicings available to enrich your performance
A pair of custom wound PRS 58/15 humbuckers sit at the heart of the tone department – Both sit within the output level you'd expect to find on a vintage Gibson PAF humbucker from the golden era – Controlled via a regular 3 way switch, plus a master volume and tone control – Note the push/pull option on the tone pot, to deliver  some excellent and very useful single coil flavoured tones – Thanks to the 'partial coil' tap mod, they are possibly some of the best single coil tones you'll hear from a humbucker -It won't transform the darker/thicker voice of a mahogany body/neck guitar, into the crisp voice of a Strat with bolt on maple neck, but nevertheless it will give you some useful 'Chic' style tones for those funky rhythm chops – From smooth, clean, laid back jazz/blues, to smouldering classic rock and blues then the 245 is on home turf – The lows are clear, the highs are angelic, whilst the mids are so warm and rich and never over powering – From chilled out blues to bone crushing rock, or even bombastic serious rock tones, the 245 has soul and passion in abundance – The volume and tone controls work well over the whole 1-10 range and still preserve all their expressive qualities as you travel through the various levels – This allows you to set-up the amp with some overdrive, then dial in, or roll off the gain as required, hence you have so much more emotional control over your playing – The 245 certainly possesses all the qualities that inspire – The usual Kossoff, Green, Moore and Bonamassa flavoured tones are all part and parcel of what makes a 245 so appealing
The P245 features the  'pattern neck shape' which is an 'updated' version of the best selling wide/fat neck – It measures .899″ around the top nut end, then gently fattens out to .951″ around the 12th fret – So whilst it possesses a comfortable amount of girth, it still sits a tad slimmer than a host of R7, R8 and R9  Les Paul replicas that you'll find today from within the Gibson camp – Paul always believes  a guitar should feel comfortable and 'familiar' to you as soon as you pick it up, with the neck profile being paramount to that connection – The mahogany neck possesses a comfortable amount of girth to it, which enriches both the tone and sustain, but not to the point whereby it becomes a challenge to play – With 22 jumbo frets, plus a 10″ fingerboard radius, it is certainly slick and easy to handle, whilst controlled string bending feels effortless – Note a set of bird inlays beam from a bound rosewood fingerboard, that is dark, with a smooth and even grained character – The PRS signature inlay is now perched on a rosewood headstock facia, along with an engraved 'McCarty' truss rod cover – Strung and set-up with a set of 10's, it feels nice and slinky to further enhance the playing performance – The whole guitar still at under 8lbs on my digital scale
EXPRESS MAIL ORDER - click here for card payment & additional delivery info
For additional product info, to arrange a showroom visit + viewing, or indeed any other questions, then please do not hesitate to contact me.
Call: 01335 345777 or email: mark@guitars4you.co.uk. Please note that showrooms visits are strictly by appointment only.
Please read below
Guitars4You is not another corporate high street guitar store - My selection of premium grade guitars is about quality not quantity. Every guitar has been selected, inspected and approved by me, with particular attention to the set-up and playing performance. Every sale, phone call, email and mail order transaction is handled by me. A journey that is now over 40 years old, has fuelled my knowledge, experience, love, devotion and passion for exceptionally fine guitars.