Express Mail Order
01335 345777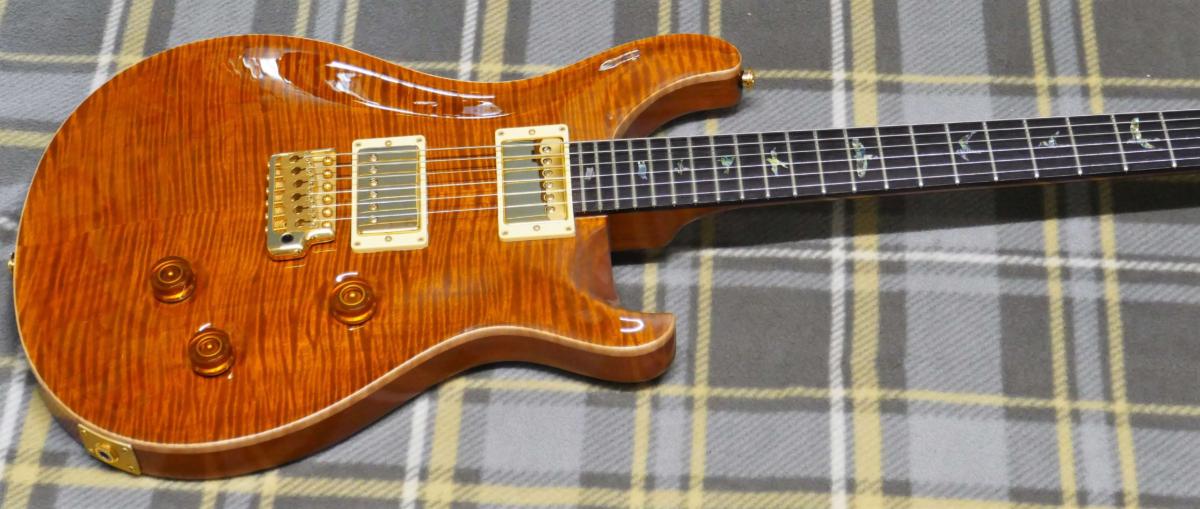 Click on a photo to view larger image and slideshow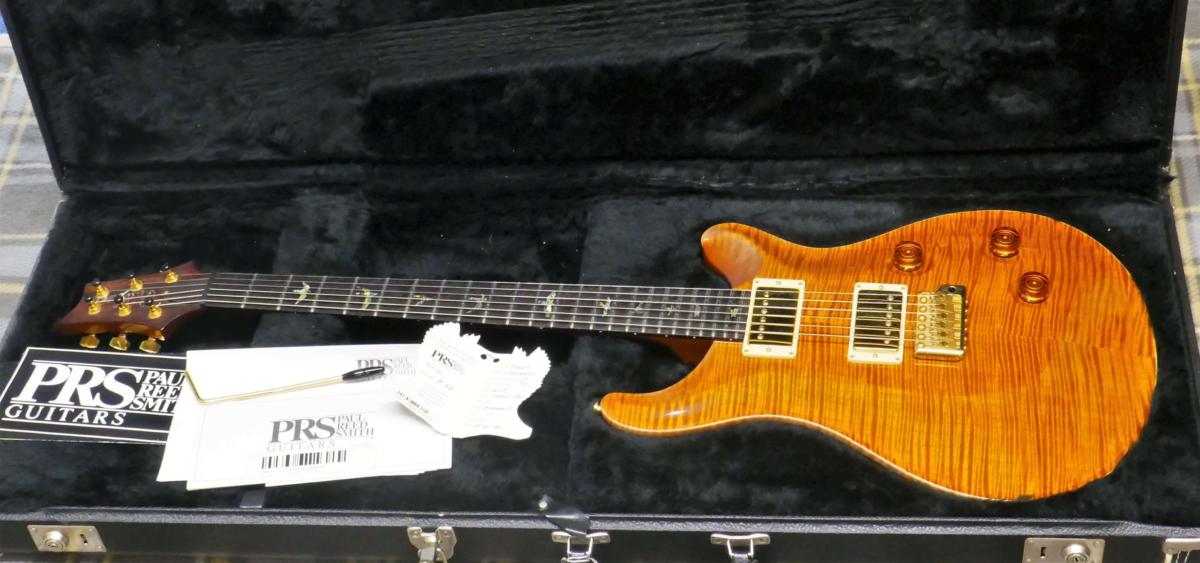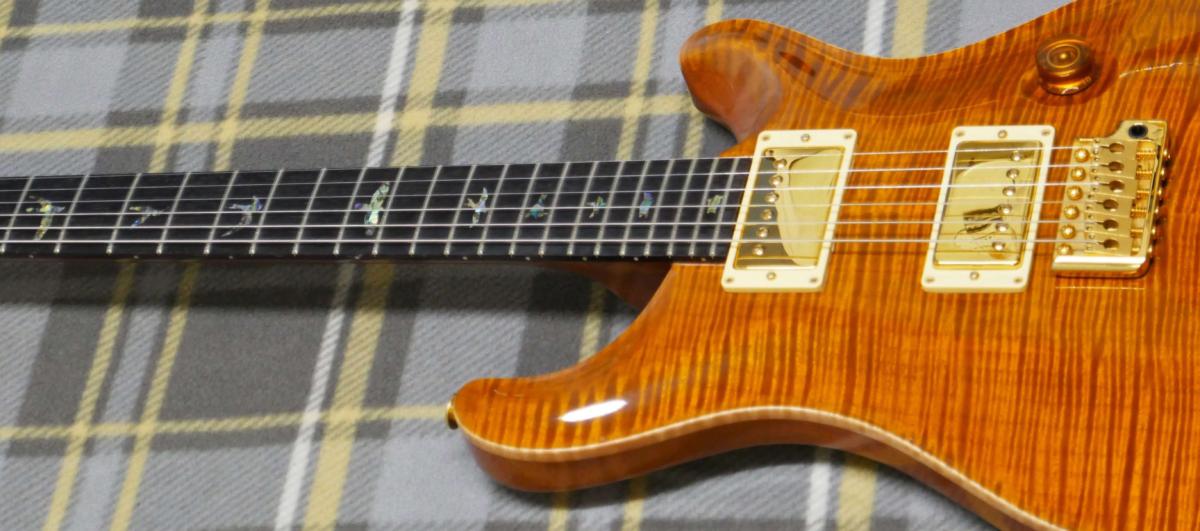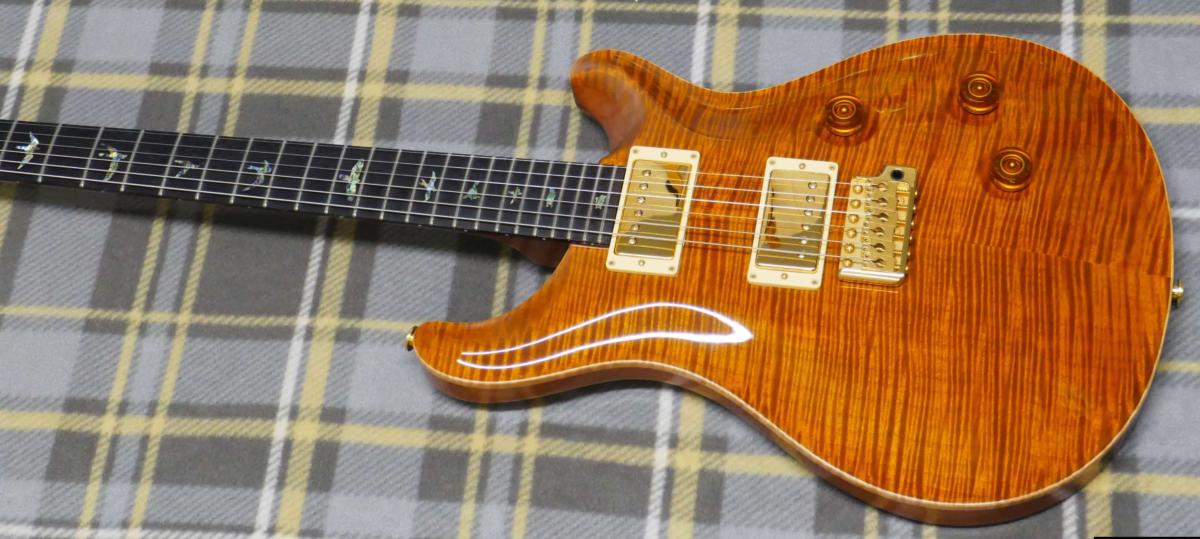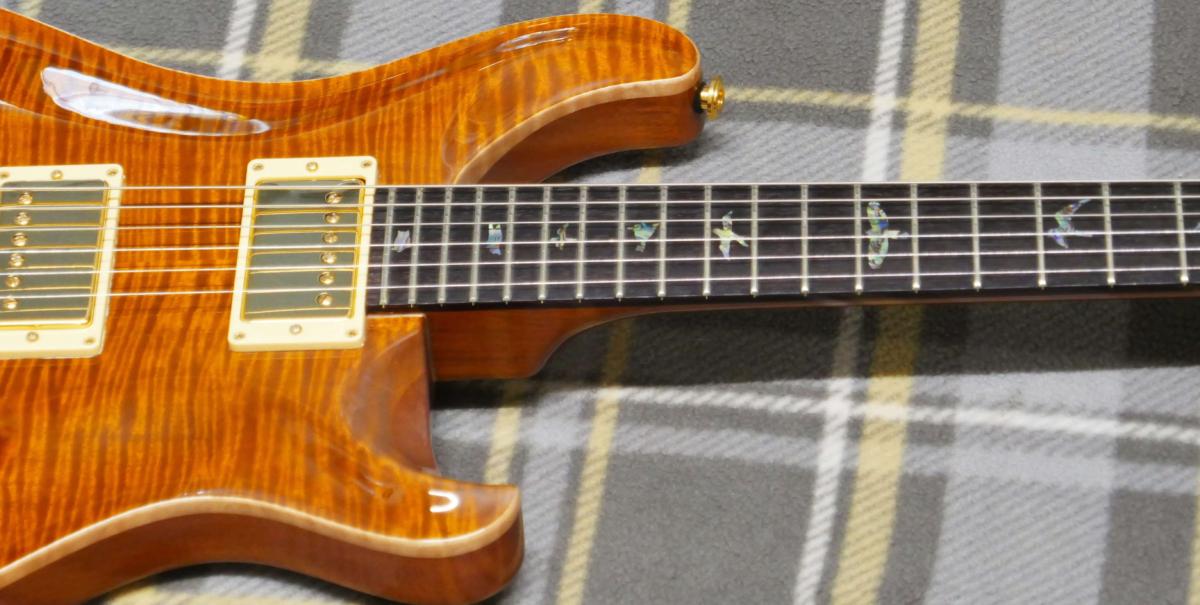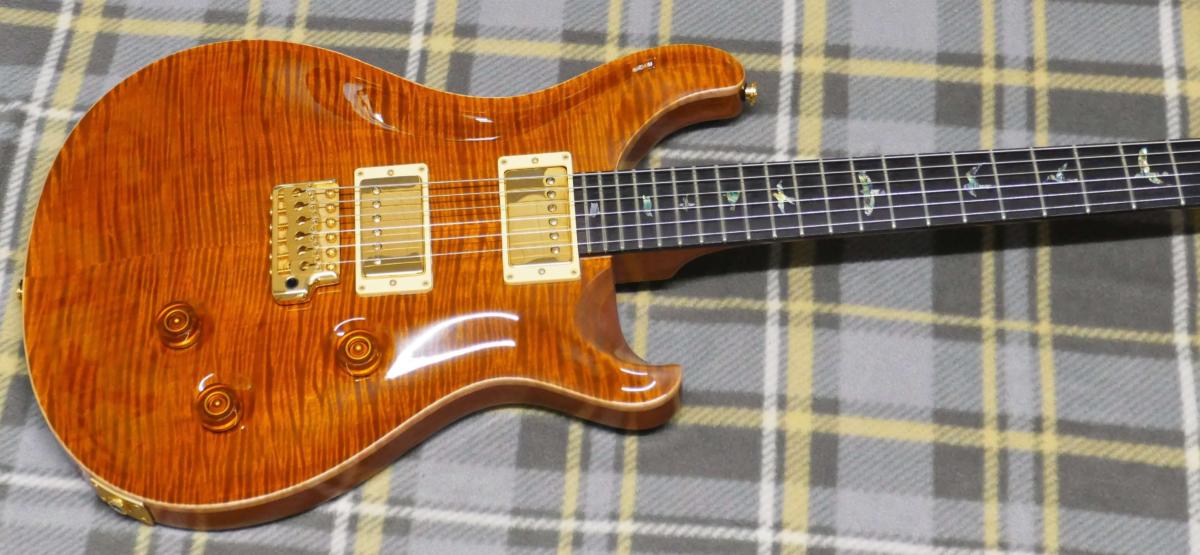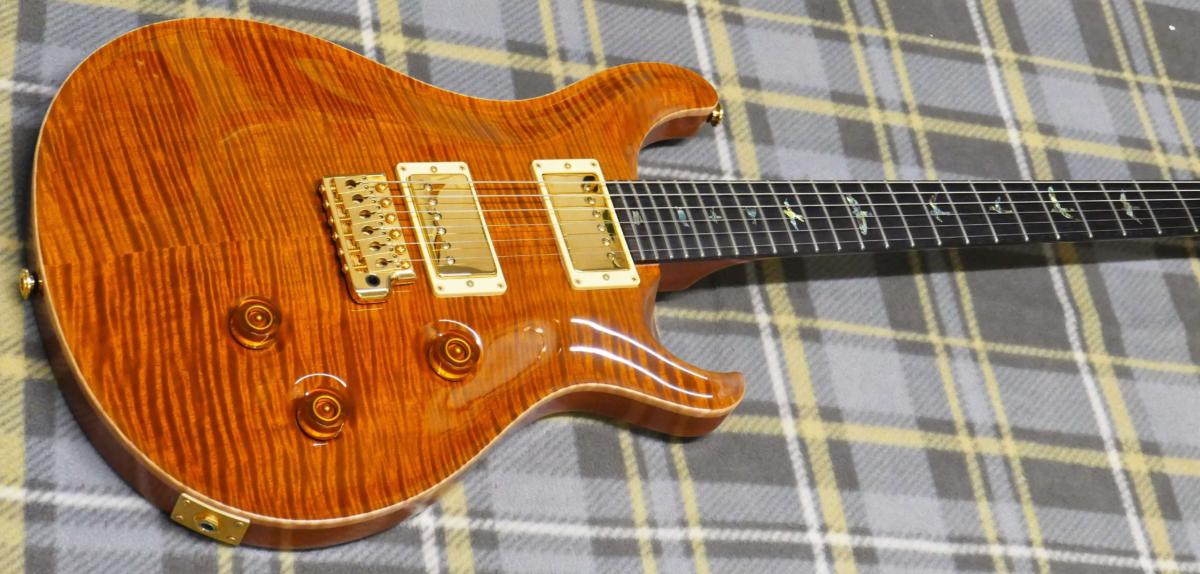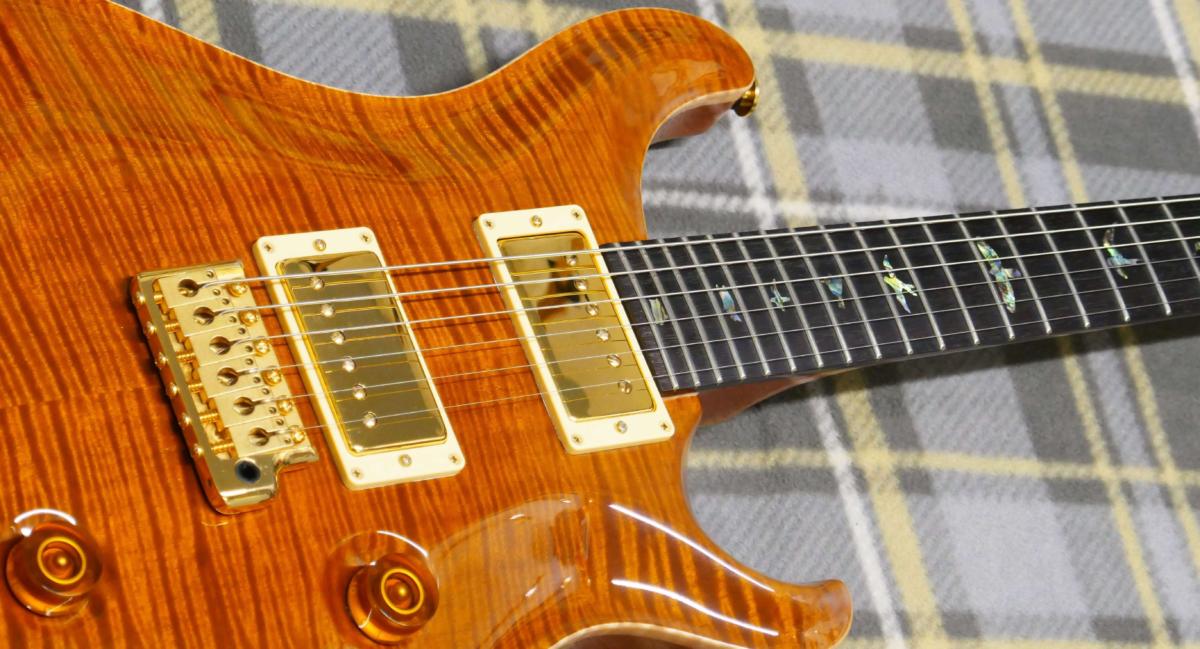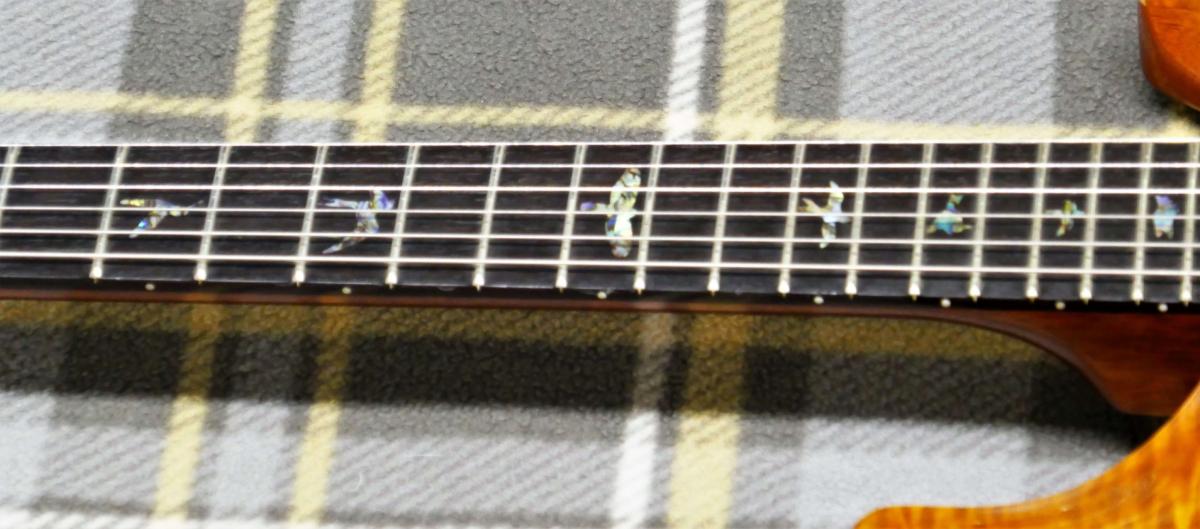 An exhilarating and highly figured maple top, decked out with a traditional amber gloss finish, certainly has you licking your lips and yearning to find out more about this PRS Custom 24 Artist Pack – Quick and easy to determine that it is a 2002 model, that is complete with a deluxe PRS hard-shell case, as well as the appropriate eagle swing tag – The whole guitar only weighs  8lbs and 8oz – Just a quick re-cap on those artist pack features :- Gold hardware, rosewood headstock facia + truss rod cover, colourful and exotic paua bird inlays, paua inlayed signature logo and of course that spectacular 'artist pack' graded maple top – Normally you'd expect the deluxe leather bound case with an Artist Pack model, but somewhere in the past, for whatever reason, this has been replaced with the regular PRS case – Somewhat slightly unusual on this Custom 24 is the choice of pick-ups – Normally you'd find a pair of uncovered PRS humbuckers, with a Vintage Bass in the neck position and the HFS in the bridge position – In this instance we have a pair of PRS Dragon 11 humbuckers, with gold plated covers – Both are factory fitted and this is supported via info on the eagle swing tag – So either its a one off custom order, or part of a special run
Of course PRS Guitars aren't just about great looks, as that impeccable build quality, coupled with a legendary playing performance, ensures that this guitar possesses all the qualities that will inspire your own playing – The one piece mahogany neck has the popular wide/thin profile, that measures .844″ at the top nut end and gently tapers to .894″ around the 12th fret – The neck is easy and comfortable to handle, which along with the 10″ fingerboard radius, plus 24 chunky frets, ensures a fluid  playing action, coupled with effortless string bending – I have polished the frets, applied lemon oil to the dark + smooth rosewood fingerboard, re-strung with a set of 10-46 gauge strings, then adjusted the set-up to ensure that a slick and easy action is waiting to greet any prospective buyer – The gold plated hardware includes a set of 14:1 ratio locking tuners, which along with the PRS designed modern fulcrum tremelo system, ensures a trouble free tuning package – You'll have to undertake some serious trem work to undermine the tuning stability of a PRS system – It feels smooth and positive, plus very responsive to a light touch
Condition wise :- An initial quick view will reveal a very clean instrument, with the gold plated hardware only showing light signs of any wear, or fade – Look closely and on the high E side, you'll notice a slight 'misty' vibe to the gloss finish in the cutaway – My pics don't really pick up on this – It is not instantly noticeable, but it is there – Certainly not a big deal and I feel it is actually more of a finish blemish, that is below the top coat of the gloss lacquer, rather than signs of actual wear from use – The actual gloss finish on the body, only shows very light signs of use and you'd need to be eagle eyed to hunt these down  – No nicks, dings or dints of any consequence – Look on the side of the fingerboard, on the low E side and where it meets the mahogany neck, you'll find a couple of minor blemishes to the gloss finish – So maybe not 100% perfect for any potential customer looking for that perfect case Queen – But if you require a clean instrument, to play, then does it get any better ?
Sitting at the heart of the engine room, or should I say the tone department and you'll find  a pair of PRS Dragon 11 humbuckers – A few minutes into your test drive and  you'll soon appreciate its tonal character and versatility – The taper of the volume and tone controls ensures that they work smoothly across the full 1-10 range – Subtle tweaks produce effective variations, that ensures this PRS is loaded with expression and soul – On overdriven amp settings, as you roll off the volume pot a touch, you can control the level of gain that you require, from a blazing full on approach, to a more subtle setting – Roll off the volume pot a touch more and it will clean up to deliver a chilled out blues tone – So play around and adjust as required, yet either way, you'll still retain the guitars tonal quality, so as not to go all mushy on you – On clean or overdriven amp settings, the tone is rich, warm and smooth, with plenty of depth and articulation – The bridge pick-up is voiced and wound a little hotter for increased bite and sustain, yet still retains those velvet smooth highs, with tight lows – The neck pick-up possesses more than enough musical warmth to please jazz and blues fans – At first glance it may appear as though you  have access to the 3 regular humbucking options, but thanks to the 5 way rotary switch, those 3 humbucker voices are complimented with 2 very useful single coil flavoured settings, that are ideal for those funky disco 'Chic' style chops
Please read below
Guitars4You Offers Reliability, Integrity and Expertise
Every guitar in stock at Guitars4You has been personally selected, inspected and approved by me, with particular attention paid to the set-up and playing performance – Every sale, phone call, mail order transaction or e-mail is handled my me – Mark Hopkin, the owner, Managing Director, cleaner and coffee maker (Jo, my wife helps with the coffee) – A journey, now in excess of 40 years, has fuelled my knowledge, experience, love, devotion and passion for exceptionally fine guitars – This reflects in every aspect of our business.
I have no desire to run an Amazon style 'click to buy' guitar shop, that lacks any soul or passion, or indeed to fill a showroom with a selection of dirty, shop soiled or dusty guitars that are in need of a set-up.
For our returns and cancellation policy relating to mail order sales, on the above menu bar click on shop info then select mail order.